WASHITA RETRIEVERS
"Devoted to the Breeding and Development of Quality Hunting Retrievers"
Specializing in Retriever Field Training for both the Hunter and Field Test Competitor
---
Field Training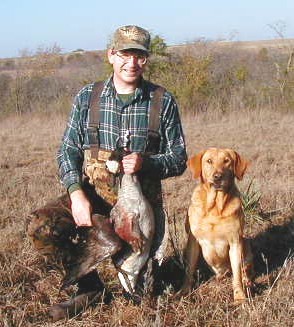 Jeff Chesnut is the trainer at Washita Retrievers. Along with having the knowledge and experience necessary to mold your young retriever into the hunting companion or Master Hunter you desire, Jeff understands the importance of the attitude, temperament, ability, and personality each dog has and how necessary it is to adjust training for the individual dog. The bottom line is that Jeff will do what is right for your dog throughout the field training process. This has allowed Jeff, on several occasions, to take dogs that other professional trainers had given up on and mold them into the competitors and hunting companions they always had the potential to be.
At Washita Retrievers, your young retriever won't be sent out to an apprentice trainer who is "cutting his teeth" on the basics of obedience, conditioned retrieve, and basic "yard" work. Jeff personally works with each dog every step of the way to ensure quality. Furthermore, Washita Retrievers puts a limit on the number of dogs in for training at any one time in order to ensure that each dog gets the one-on-one attention necessary to reach his full potential.
.
.
.
In addition to monthly retriever field training from beginner to Master level, Washita Retrievers offers Puppy "Pre-School," Pre-Hunting Season Tune-Ups, One-On-One Train the Trainer sessions, and professional handling at field test competitions. Contact Washita Retrievers to discuss what program is right for you and your Retriever.
*** Editorial by Jeff Chesnut – Fall 2009 *** In the past year, in the somewhat struggling economy, I have observed some behavior in the retriever training world that, in my opinion, is ethically lacking. First, I have observed trainers telling clients that dogs need to come in for training at four or five months, rather than at six months or when maturity dictates. Of course, puppy pre-school occurs before six months of age, but in many cases, I have witnessed these trainers telling potential clients that their dog needs to begin "big dog", regular retriever training at the age of four months. Second, I have observed trainers assuring potential clients that they can train their dog in just two months rather than three or four months to get to a "started" level. Of course, this is combined with the telephone call at the end of two months explaining why their particular dog needs another month or maybe two. The only reason that I can imagine for these behaviors is that the trainer is low on dogs and needs more to make ends meet. Be on Guard! Whether you're considering using Washita Retrievers or any number of the other available training kennels, be sure to do your homework, check references, look at his track record, and make some quality visits. Watch how the business is run. Watch how the dogs as well as his clients are treated. "Good character won't be changed by a bad economy." Please visit my "Field training Details / FAQ" as well as my "Hunt Test Titles and Test Results" pages linked below for more information.
For additional Field Training information, click on the following links:
Field Training Details/FAQ Training Grounds and Technical Water Client Pictures
Client Endorsements Hunt Test Titles and Test Results Hunt Test Schedule
---
Retriever Field Training Labrador Puppies Labrador Stud Service
Trained Retrievers for Sale Boarding Any Breed Obedience Training Custom Whelping
Home
---
Contact: Jeff Chesnut
Washita Retrievers
189 County Road 1570, Marlow, OK 73055
Phone: (580) 476-2126
Email: chesnut@washita.com
Mobile: 405-896-0522 or 405-896-0LAB